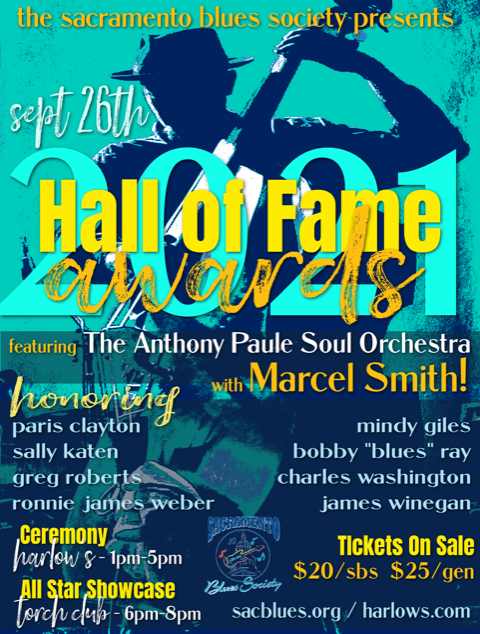 Harlow's & Sacramento Blues Society present
The 2021 Sacramento Blues Society Hall of Fame Awards
with Special Guest Entertainer The Anthony Paule Soul Orchestra ft. Marcel Smith

Sun, September 26, 2021
Doors: 12:00pm / Show: 1:00pm
$20 SBS Members - $25 Non-Members
Share This Event
TICKETS
This event is all ages
2021 Sacramento Blues Society Hall of Fame Awards
The Sacramento Blues Society is proud to announce the 2021 Blues Hall of Fame Awards event for Sunday, Sept. 26. This is the 13th anniversary of the popular afternoon-into-evening event.
According to SBS Hall of Fame Chair Sally Katen, the Hall of Fame honorees are chosen each year in recognition of their contributions to the preservation and promotion of the blues in Sacramento for at least 20 years.
This years inductees are:
• Paris Clayton
• Sally Katen
• Greg Roberts
• Ronnie James Weber
• Mindy Giles
• Bobby "Blues " Ray
• Charles Washington
• James Winegan
Full bios of all inductees are on the SBS website: https://www.sacblues.org/hall-of-fame.html
Special guest artist performing at the afternoon ceremony is The Anthony Paule Soule Orchestra feat. MARCEL SMITH
As in years past, the after-event showcase/jam is at the Torch Club from 6 pm-8pm. The south wall of the Torch Club is the SBS Hall of Fame Wall where framed photos of all HOF winners are located.
Past inductees include Mick Martin, Johnny Heartsman, Arbess Williams, Rick Estrin and Lil Charlie Baty, Ray "Catfish" Copeland, and the Texiera Family, owners of the Torch Club since 1934.
Full list: https://www.sacblues.org/hall-of-fame.html
Venue Information:
2708 J Street
Sacramento, CA, 95816